Education
◆Shopping Center(SC) Management Training Programs:
We host monthly classroom-style seminars on different SC-related topics. They are practical in nature, as our speakers and lecturers are seasoned businesspeople, consultants, and attorneys in the know all aspects of the SC field.
◆Study Tours to visit the front lines of Overseas and Domestic SCs:

We offer several study tours a year to visit latest shopping centers both in Japan and overseas. Tour participants visit leading-edge SCs over a short period of time. We receive rave reviews from the participants, who gain useful information from their experience.
◆SC Academy:
This school was opened in April, 2007, to train the next generation of SC managers. The full year curriculum also provides valuable future networking opportunities. SC Academy is open only to Council members.
◆Training of Certified Shopping Center Business Administrators who support
top management of shopping centers:
JCSC now offers a system to train professionals who will be responsible for sound and positive development of SC management. The Certified SC Management Consultants Association is a group of Certified Shopping Center Business Administrators who actively provide supports to JCSC members. They play the role of expert advisors at Shopping Center Business Administrators and lecturers for various seminars.
◆Distance Education Programs – SC Administrator Course and
SC Developer Course:
The Council offers the SC Administrator Course and the SC Developer Course via distance education. Materials were written and edited by experienced businesspeople knowledgeable about frontline actions.
Information Gathering/Transmission
The Council offers various forms of information as only an SC-specific industry organization can do.
◆Website:
Through its website, the Council speedily transmits information that relates to SC and the retail industry.
◆Monthly magazine SC JAPAN TODAY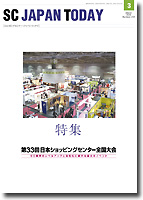 Launched in 1973, the monthly magazine has been a favorite among JCSC members and industry insiders. As the only publication specializing on the SC industry, each issue is filled with the latest news on the most talked-about SCs, businesses to watch, popular tenants, and other useful information for shopping centers.
◆Research Reports
The Council publishes reports based on various research projects that are helpful to SC operations. Monthly/Annual Report of Sales Statistical Research, SC Rent/Common Charges Research Report, SC White Paper, and SC Glossary.
Promoting Learning and Networking
◆The largest JCSC-hosted event that consists of three project segments:
Symposiums and Seminars, Business Fair, and Role-playing Contests.
◆Symposiums/Seminars:

Commemorative speech, Symposiums and Seminars, and a reception.
◆Business Fair:

Exhibitions that showcase items and ideas that contributes to SC management and provides new business opportunities.
◆Role-Playing Contests:

Employees of shopping center tenants compete on their customer service skills. This is one way to improve the quality of workers.
Social Contribution
◆SC-endowed Seminars

In order to commemorate the 30th anniversary of JCSC's foundation, and to foster the next generation of SC professionals, the Council decided to endow annual seminars at several leading universities, starting in 2003. Lecturers are selected primarily from the pool of Council-certified SC Management Consultants.
Activities of Branch Organizations:
JCSC has seven branch organizations spread across Japan. Each branch organization actively offers various programs so that regional members can feel comfortable participating in our activities. Branch organizations host their own study groups to exchange the latest information in the region and to discuss issues they have to resolve immediately. They host social gatherings to facilitate networking among members and are also responsible for conducting regional competitions of customer service role-playing contests that lead to a national competition. They make nominations for the bi-annual SC Awards.